FALL Physical Education Downloads
September Download- Hand-eye Coordination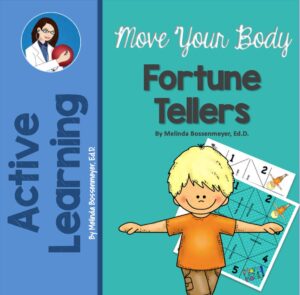 Hand-eye coordination is an underlying skill required for many sports situations.
October Download- Balance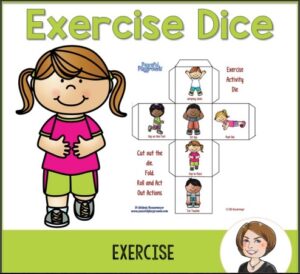 Balance is the basis of all movement. Supervise your child during balance activities to ensure safety.
We suggest that you print out the cards on card stock.
November Download- Striking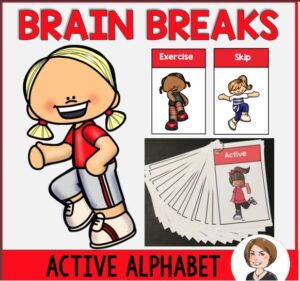 Striking is an important skill for many sports and a complex fundamental motor skill. For safety, it is always best to supervise your child during a striking activity.
We suggest you print out the cards on cardstock.
January Download- Eye-Foot Coordination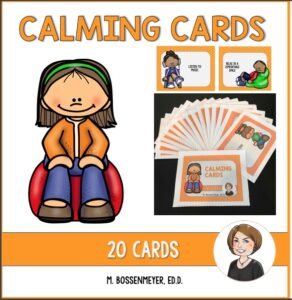 Calming Cards
Due to the pandemic, experts have indicated that children have experienced an unusual amount of stress. Enjoy these calming cards which can be used as ideas for various ways to create a calming experience. You can also use the cards to teach children the various options that they might choose when feeling stressed or anxious.
We suggest that you print out the cards on card stock.
Spring Physical Education Downloads
February Download- Winter Movement Cards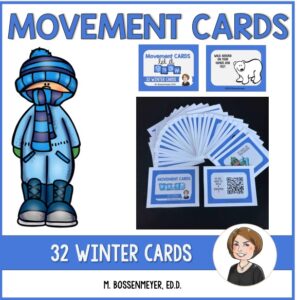 The Winter Movement Cards are easy to use and there is an illustration for each card.
The digital download provides instant access to the pdf format of 32 movement cards.
Some movement cards in the set include: Sit down like your sledding, warm your hands by the fireplace, play ice hockey, name your favorite winter Olympic sport, walk like a penguin, sing like a snowbird proud and loud, and have a pretend snowball fight to name a few. This set has 2 QR songs for playing during the activities with suggestions "Let it Snow" and "Do you Want to Build a Snowman?"
March Download-Locomotor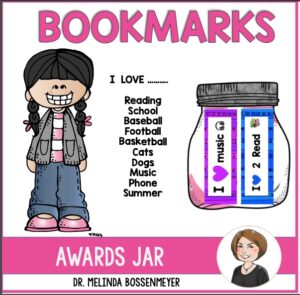 Bookmarks
This is a set of 10 sheets of 4 bookmarks each. Duplicate the bookmarks. Laminate them and cut them out. Place in a jar or box for easy in distributing them. Bookmark topics include:
Reading, School, Baseball, Football, Basketball, Cats, Dogs, Music, Phone, Summer
I store my cards/products in 9″ x 12″ white envelopes and laminate or glue the cover on the front of the envelope. This fits into a regular-size file drawer for easy storage.
April Download- Fitness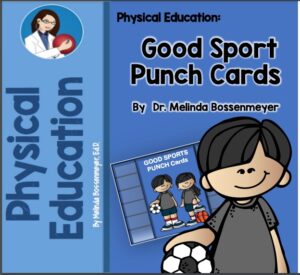 Good Sports Punch Cards
Enjoy this set of 12 colorful and motivational punch cards on sportsmanship. Each card has 12 sports for punching.
Print good sports punch cards on card stock.
Cut out good sports punch cards
Punch a spot on the card if your child demonstrates good sportsmanship.
May – Body & Space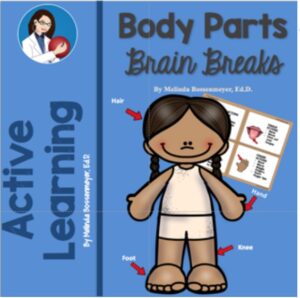 Body Parts Cards
Enjoy this set of 21 Brain Break Cards centered around various body parts and their movements. For example shoulders: shrug your shoulders, lift your shoulders up to your ears, roll your shoulder back, and make your shoulder blades touch your back.
Bonus Download (Annual Plan)-
June- Fine Motor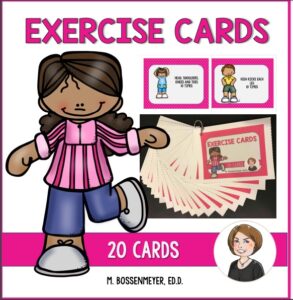 Exercise Cards
This set of Exercise Cards is easy to use and describes the exercises in the set, as well as, has an illustration for each task card.